Holiday shopping, so easy it Hertz! 
Holiday shopping can be hectic when you aren't sure if what you're looking for, is what you're truly getting. I will be doing a series of articles on the topic of buying new technology this coming month. I will not be specifying toward any certain brands, but I will give you the facts and figures you need. This way you can shop for your new tech with confidence.
Refresh rate
When looking for a new TV during the holidays, most people know what they are looking for. This usually consists of resolution, size, and inputs. What most people don't look at are the other specifications, the same ones us techs look through very thoroughly. When asked, many people stated, "its too intimidating," or "It looks like gibberish," unfortunately, that "gibberish" is quite helpful. When I go looking for a new TV, I look at the refresh rate. The refresh rate is how often the image is changed by the TV. A traditional display uses a refresh rate(or "Frame rate") of 60Hz(60 "frames per second" or "FPS"). While original HDTVs started using 120Hz(120FPS). This initial difference in refresh rate can make a big difference in your viewing. Now with this now known, comes the tough part, finding the liars.
Marketing
A few years ago when HDTVs first hit Black Friday shelves, none of the ones I ran across were 120Hz. This means, not one of them were truly high definition displays. The only ones that did, were not on sale. This isn't always the store that's putting out these figures, this is on the packaging itself. A lot of these manufacturers use "alternate facts" to explain that its a High definition display. Fake refresh rates aren't completely made up though. There's often a way(If you take logic out of the equation)to determine each manufacturer's refresh rate claim.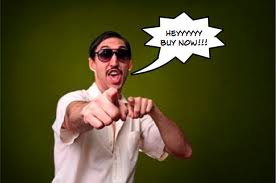 There are two ways to raise the numbers, other than actually using a faster refresh panel. The first being scanning or flashing back light. All LCDs have a back light to create the light used to create an image. Usually this is always on, or at least cycling at the same 60Hz the rest of the TV runs at. If the TV flashes this back light rapidly instead, your eye would see the image, a frame of black, then the image the second time. Normally, It does this so fast, you don't see the flicker. Technically, you're seeing each frame of the image twice per second. Unfortunately this is common practice, and can reduce motion blur. The lie is calling it "120Hz" when it's really just a 60Hz TV with a scanning back light causing you to see the same frame twice in a row.
The second, which could reduce motion blur slightly, but increase the claimed refresh rate quite a bit, is video processing. Often this is called, "motion smoothing." So now with so many TVs marketed with a combination of the above either in addition to, or instead of, actually increasing the refresh rate, manufacturers don't want you to know what the actual refresh rate is. So here's what a few of them call their higher refresh tech, and what it really means. According to a chart found on CNET, a lot of the companies that promise HD or even Ultra HD don't deliver.
ACTUAL REFRESH RATES OF 2015 TVs
| | | | |
| --- | --- | --- | --- |
| Brand | Model | Claimed | Actual |
| LG | UF7600 | TruMotion 120 | 60Hz |
| | All other 4K TVs | TruMotion 240 | 120Hz |
| Panasonic | CX600 | Image Motion 120Hz | 60Hz |
| | CX650/CX800 | Image Motion 240Hz | 120Hz |
| | CX850 | 2400 BLS 4K IFC PRO | 120Hz |
| Sharp | All models | – | As listed |
| Samsung | All models | – | Half listed motion rate |
| Sony | All 4K models | – | 120Hz |
| Vizio | Most E-series | – | 60Hz |
| | E65-C3, E70-C3 | | 120Hz |
| | M-series | – | 60Hz |
| | M-series >/=60in | – | 120Hz |
Our advice / for the TL;DR..
Stick with the 120Hz displays, you wont really notice too much of a difference with anything claiming to be higher.
Make sure it says 120Hz in the actual specifications area, don't be fooled by the verbage that the manufacturer came up with(TruMotion, Image Motion, etc)
Don't be afraid to shop around and take your time, they're only getting cheaper. Mine took until Super Bowl Sunday to find the right one, at the right price.
Most places price match exact models, for local and online retail as long as its sold by the company itself (Microcenter, and Amazon, etc)
Also if you need any assistance with shopping technology around this holiday season, we offer FREE consulting to help you find exactly what you are looking for at the best price. Feel free to contact us at (810)-545-8344 or using our form on the front page.
Merry Christmas! Luke 2:12